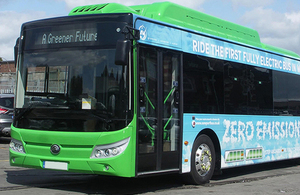 The DfT has invited local authority bids to three new bus funds: Superbus networks (£70m), an all-electric bus town (£50m), and a Rural Mobility Fund (£20m). Bids must be submitted by 30 April.
S Yorks climate chief to target 25 per cent cut to travel demand
The South Yorkshire City Region Combined Authority is to appoint a climate commissioner to lead the area's work to achieve net carbon emissions by 2040, including cutting overall travel demand by 25 per cent by 2030.
Greengauge 21 urges changes to key aspects of HS2 programme
Greengauge 21 has called for changes to the HS2 programme, including accelerating construction of a line between Leeds and Sheffield, dropping the proposed station at Manchester Airport, and reducing the size of the HS2 station at Old Oak Common in west London.
Ministers consider giving councils moving traffic offence powers
Kent County Council is awaiting the outcome of a fresh Government review into whether local authorities outside London should be granted moving traffic offence powers.
The powers for councils to enforce offences such as stopping in yellow box junctions and weight restrictions are contained in the Traffic Management Act 2004 but the DfT has never passed the necessary secondary legislation to allow their use.
Kent, which wants the powers to enforce lorry restrictions, says DfT officials have been asked to "provide ministers and 10 Downing Street with a paper" about granting the powers.
Proportion of population who use buses 'shrinking'
The decline in bus use in England over the last decade is largely explained by a shrinking proportion of the population using buses, rather than bus users making fewer trips, according to a report for the Independent Transport Commission.
It says the proportion of the population who use buses at least once a week fell from 21 to 18 per cent outside London between 2009/11 and 2015/17.
Mass transit study for West of England
The West of England Combined Authority is commissioning a study into a mass transit system for the area.
The area's new local transport plan identifies four possible corridors centred on Bristol as well as corridors focused on Bath.
Bus data portal opens for business
The DfT has launched the Bus Open Data Service that will host timetable, route and fare data for services across England outside London.
New regulations mean bus operators and local authorities running tendered or franchised services are legally required to provide timetable data by the end of 2020 and fare, ticket and location data from 2021.
The Government wants the data to be used by app developers.
More combined authorities for transport?
Councils in the North Yorkshire and the southwest of England are considering creating combined authorities to oversee policy areas including transport.
The combined authority for North Yorkshire would cover the county council and the unitary City of York Council. The southwest CA would cover Somerset, Devon, Torbay and Plymouth.
Meanwhile, councils in Sheffield City Region are consulting on unlocking the devolution deal struck with Government in 2015, which includes a number of transport powers.
About the Author
This post was written by Andrew Forster. Andrew Forster edits the fortnightly magazine Local Transport Today, covering transport policy and practice from across the UK. To subscribe to Local Transport Today, click here.
Submit your news story
If you have a news story for the Hub, please submit it using this form.